An Integrated System for Road Condition Diagnosis and Management
Introduction
The GRPR, Ecole Polytechnique, is developing an integrated system for road diagnosis and management in collaboration with the National Research Council of Canada and GIE Technologies Inc., a Montreal consulting company. The integrated system involves road data acquisition, modules( surface and sub-surface condition, bearing capability, traffic sign position and condition) and a road data management system using GIS (Geographic Information System), GPS(Global Position System and relational database technologies.
Project Facets:
Automated evaluation of road surface condition
Automated evaluation of road sub-surface condition
---
System Architecture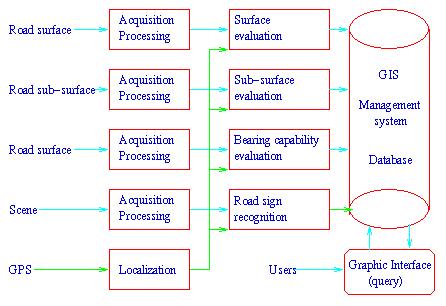 ---
Members involved
Ecole Polytechnique: Prof. Paul Cohen, Prof. Jean-Yves Herve, Dr. WeiBing Tong,Valerie Gouailler, Denis Fourt, Arnaud Lina.
GIE: Dr. L. Bursanescu.
NRC: Dr. F. Blais.
Some Related Info on Road Diagnosis and Management
Companies

---

Geographical Information System

---

GIS free software

---

Pavement Deflection Measurement

---

Stereo Vision System for Map Making

---

Pavement Management System

---

GPS (Geographic information system)

---

TONG WEIBING
Last modified: Mon Nov 9 08:17:25 PST 1998